Farmer's Market Sponsorship Opportunities
The Downtown Arlington Foodies Farmer's Market is looking for community-minded sponsors to help grow a new and exciting Farmer's Market in Downtown Arlington. You can support healthy living in Arlington by joining us as we create a much needed healthy option in the heart of our city.
The Arlington Foodies Farmer's Market will occur every 2nd Saturday of the month between 2:00pm and 6:00pm, and will be hosted in Downtown Arlington's Urban Union. This market will include fresh produce, dairy and other artisan food items.
However, we are more than any farmer's market. We are a chance to bring community together through monthly competitions, classes, and taste testings. We are working to bring all of Arlington in to support this new and wonderful development in Arlington.
Below are two opportunities to help us grow our local and organic farmer's market, and details on how our fun and innovative market can support you! The price below is the monthly option and we request a quarterly commitment. For more information, please contact Jennifer Hurley at 817-793-2636 or email us at Market@ArlingtonFoodies.com.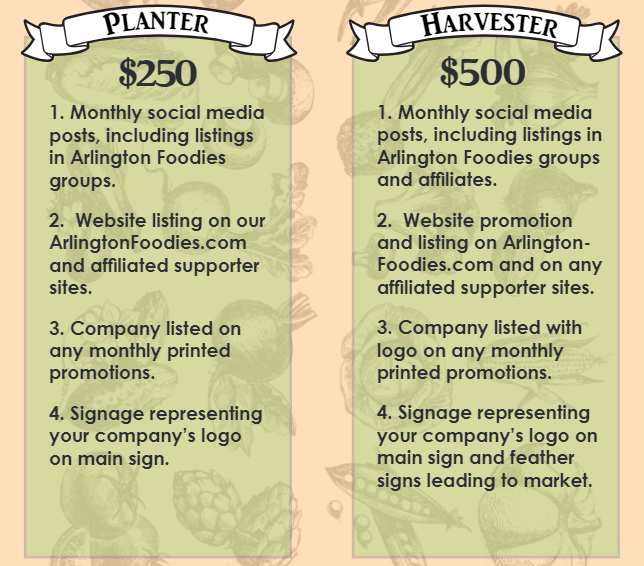 We request you submit your application no later than November 20 and email your logo to Market@ArlingtonFoodies.com so we have time to add your information to our signage.