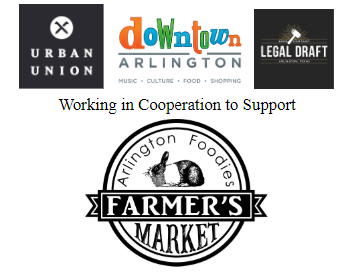 We Bring YOU the New Downtown Arlington Foodies Farmer's Market!
We are so grateful to be supported by Downtown Arlington Management Corporation, Urban Union and Legal Draft to bring you this new and exciting Arlington Foodies Monthly event!

Thank you to Andrew Tanelian for visiting our market and creating this great video!
What can you expect from this farmer's market located in downtown Arlington?
The Downtown Arlington Foodies Farmer's Market will be held the 2nd Saturday of every month between the hours of 2pm and 6pm on the pavers near Legal Draft located at 500 E Division St, Arlington (we are located on the front street side). We will host 25 vendors, all food oriented, to bring you some of the freshest and cleanest food available in Arlington.
Here is our February list of vendors!
The Whole Orrdeal - Local Artisan Soaps, Sugar Scrubs, and body products.
Taste That food Truck and Catering - Homemade Jams
Kik's Kitchen Creations - Cupcakes, cookies, candy, pickles, jelly, dry soup mixes, whatever strikes our fancy that month
Simply Fabulous Foods - Fabulous Ranch (dip/dressing)
Arlington Foodies Produce Coop - Fruits and Veggies
BIllyz Beanz Coffee - 12OZ Bags of fresh roasted coffee
Idlewild Botanical - Herbs and Veggie Plants
DUBalicious Cupcakes - Baked Goods
Mama-Ella's Popcorn Kitchen - homemade, handcrafted popcorn snacks made without artificial colors, flavors or preservatives
Say Cheese - Pimento Cheese, 8 oz & 12 oz
Yemi Jars - Chocolate Whiskey Cakes
Andrei's Homemade Fudge - Homemade fudge in assorted flavors
Coal Miners Jerky - Smoked Beef Jerky
WYS Enterprises, LLC - CBD edibles, oils and water solubles
Emotions Made Edible - made from scratch baked goods (regular, vegan, keto) and candy
Ladybug Botanicals Bath Co. - Natural handmade soap, lotion bars, bath bombs, home fragrance & soy candles
Launa's All Tarted Up Bakery - Cottage Food products: breads and pastries
Biolief/Elixirs by Kindess - CBD products
Hobby Beekeeper's Arlington Honey - Arlington Local Honey
Cold Springs farm - Produce, meat, eggs
Salter Bros. Coffee Roasters - Fresh locally roasted artisan coffee (12 oz bags), whole bean and ground
Little Dumpling's Place - home made pickles Cottage Food Vendor
Sweet Nana's Cookie Jar - Gourmet Cookies and Bars
Heart of Arlington 4-H - Head, Heart, Hands, Health, Child Education
Sweet Shak - Cakes and Cupcakes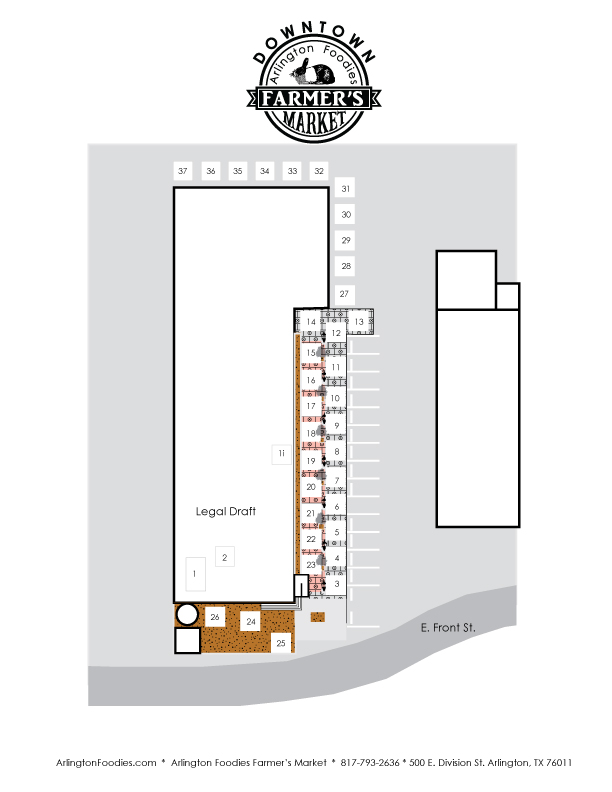 What else will be at the Downtown Arlington Foodies Farmer's Market?
Every quarter we will host a competition for our residents specific to the season.
January - Chili Cook Off - $10 taster entry fee $10 competitor fee
February - Cookie Bake-Off - $10 taster entry fee $10 competitor fee
March - Wayne Stover's BBQ Training (outside) - $20 per class
April - Idlewild Botanicals Planting Adult Classes and Heart of Arlington 4-H (Kid's classes) - $20 Adult Classes
May - Hot Dog Eating Competition (outside) - $20 Competitor Entry Fee
June - Watermelon Carving Competition (outside) - $20 Competitor Entry Fee
July - Pie Eating Competition (outside) - $20 Eater Entry fee
August - Ice cream Tower Challenge (outside) - $20 entry fee per competitor partnership
September - BBQ Battle (outside) - $20 Competitor Entry Fee - Professional Judging
October - Pumpkin Decorating Competition (outside) - $20 competitor entry fee & Pie Baking Competition - $10 taster entry fee $10 competitor fee
November - Turkey Training, Preparing the perfect Thanksgiving Feast
December - Cake Walk and sweets raffle - Cake and Sweets Donations Needed, each walk $5.00, $1 per raffle ticket.
Additionally, we would like to host a variety of teaching classes that correspond with a 4-H Curriculum related to environment and outdoors, plant and animal sciences and food and healthy living.
Also, we would like notable people in Arlington to share their culinary skills and to incorporate taste testings for various restaurants in Arlington. The goal is make this the most exciting and entertaining Monthly Farmer's Market in the Metroplex. We want a little something for everyone in our community at the market.
Click here to fill out the Vendor Application
Click Here to read our Vendor Guidelines
Click Here to read our Indemnity Acknowledgement and Release
We need your help! Volunteer every month with us!
For additional information, please contact Jennifer Hurley at 817-793-2636 or email us at Market@ArlingtonFoodies.com. Thanks for your interest in the Arlington Foodies Farmer's Market and we look forward to seeing you soon.
Check out the pictures from our January Market!